Even though I posted my green blocks yesterday, this morning, while I was waiting for the Block Lotto deadline for posting blocks to arrive so I could organize the drawing, I couldn't resist pulling out ALL the Briar Patch blocks I've made so far, and putting them on the wall, just because.
These blocks represent 34 of the 80 paper foundations in the pattern. The layout is nothing like this, but this is the way I "see" them ... so who knows what will happen when I have made all the blocks.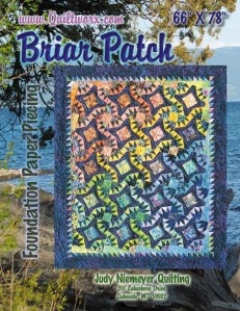 Here's the cover of
Judy Niemeyer's pattern
so you can see how it's supposed to turn out.
Edited to add that the link above will take you to the pattern–I'm sorry if that wasn't clear.
It probably was the rainbow colors she used that first made me think that it would be good for using up scraps.
I have been making these blocks each month, following the course I set when I did a workshop with Judy many years ago. Today, I probably would have made slightly different choices and reversed the placement of the "light" and "dark" black and white prints. Of course, there are (almost) no wrong answers in quilting ... I think it's one of the things I like about it.