Since I spilled the beans on the
Block Lotto
about how the January, February and March blocks combine to form the first module of the Mod-Mod quilt, quite a bit of progress has been made, in advance of the usual mid-month-update ... So I went ahead and published it early, yesterday.
Here's my progress.
For my Queen-size quilt, I added some aqua to the mix with these four Star Chain blocks.
Once I combined these with the Double Chevron and Bead-on-a-String blocks to create the first modules, I couldn't resist arranging them on the design wall in an approximation of quilt layout.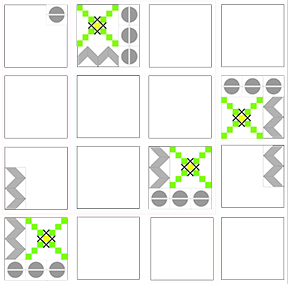 I have already shared my Rainbow Scraps Challenge version of the quilt, which I'm making as a throw-sized quilt made from a total of 9 modules.
There was more playing on the design wall with those, too. I think this will be more fun when there are more blocks than white space ...
If you are beginning to like what you see, it's not too late to grab some fabrics and play along. You can make a quilt in one of 6 sizes, from a small square (42 inches) to a big king-size bed quilt (105 inches square). Here are some links on the Block Lotto site to get you started:
I'm joining the WIP Wednesday lists on
Esther's Blog
and
Freshly Pieced
.